Artist Statement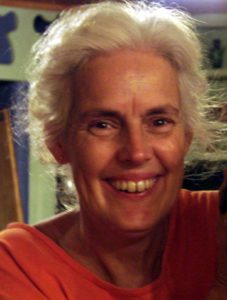 I make two distinct forms of art work; functional pottery to be used daily in our homes and mixed media sculptures that inspire and have ritual features. Both have elements of patterns, textures, colors and shapes derived from nature.
For decades, I have been a collector of objects. I have found objects on walks in cities, the woods and by the ocean. Bones, rusted metal, gourds and shells are just a few of the things that are incorporated in my sculptures. My ideas have evolved from nature, Ancient African Art, and modern art. These influences can be seen in work with the integration of found objects. Bones and metal are used as a base for sculptures. Shells, seedpods, rusted mental, and wood are included in patterns and to form a surface in sculptures. My sculptural work is intuitive, creative, and unique. The sculptures are also mystical, spiritual and fun.
In the past I fired my pottery in a salt kiln but presently I am working with mid-range electric firings. My pot's designs, colors, shapes and patterns are pulled from nature and art. My pottery has both traditional and non traditional elements. I make cups, bowls, casseroles, cover jars and containers. Sometimes I include non clay objects in pieces. The design and function are both important elements of each piece. I am not a production potter. No two pieces are alike unless they are a part of a set. Function and beauty are both important components in my work.
The inspirational and ritual sculptures and functional pottery are both important to me and both fun to create. I enjoy the rhythms of working with clay and sculptures. The process of throwing, assembling, glazing, loading and unloading the kiln. The process of finding objects and assembling them. The studio has large windows and it over looks my garden and woods. It is a peaceful setting where I see the change of seasons and watch the birds. My home studio is my sanctuary.
Robin Ann's Biography
My first clay experience goes back to my high school art class. I actually sold my first piece, a small clay sculpture, to a teacher. That day clay and art wove their way into my life. In college, as an occupational therapy student, we were required to take a clay class. Of course this was my favorite class! After graduation, with a degree in occupational therapy, I started taking a night time pottery class at Anne Darling Studio in Sarasota, Florida. She inspired and encouraged me to go to Penland School of Crafts here in NC, where I took 2 classes over 4 weeks. The 2 sessions in clay pulled me further into the world of clay and art. I quit my job as an occupational therapist, and pursued clay full time with a part-time job at UPS to help financially. I started doing the craft show circuit in Florida. I took more workshops, including a 2 week session at Haystack Mountain School of Crafts in Maine. This inspired me to go back to collage. It took a year, but I went to Boston for a semester at the Program in Artistry. Later I transferred to The NY State College of Ceramics at Alfred University, where I received a BFA. At Alfred, I started creating mixed media sculpture.
After spending 2 years in California, I moved to Asheville, NC. A few years later my husband and I started Friendly Hollow Studio where we taught pottery and sculpture. This was short lived ( only 3 years ) but resulted in building a wonderful studio ! Through the years I have continued to work in clay and art but on a limited scale.
Soon after moving to Asheville, our son was born. I decided to work as an OT. After several years I became a Certified Hand Therapist. I found hand therapy rewarding, meeting wonderful people and helping them recover from injuries and different hand diagnoses. I continued doing art work and participated in shows including a show at the Asheville Arts council and one at the Walked Art Center at The Asheville School. Since 2016, I am creating pottery and small mixed media sculpture full time. It is wonderful to be back in the studio, pursuing my passion for art work on a full time basis.